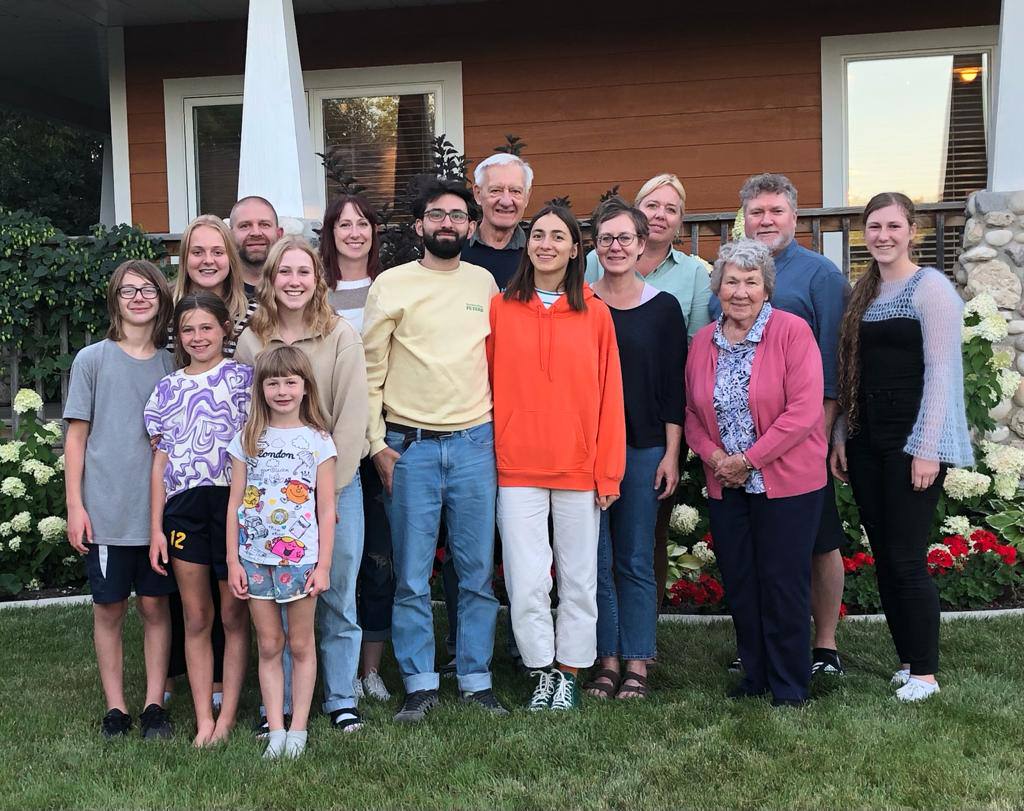 My Canadian story.
December 1st. Arles, France. I'm writing these words at artist residence, in nice surrounding of Mediterranean I am to enjoy next month, trying to collect the memories of my recent travel across Canada, I have a feeling that happened many years ago. 
During my two months in Canada I had 14 literary events, we visited Toronto, Winnipeg, Edmonton, Montreal, Calgary and several smaller cities. At first, of course, I was a little afraid of Canadian distances and the promised winter in October. After all, today traveling is a great privilege.
I remember once reading the book "Notes of  Dilettante" by Leopold Tyrmand, a Polish author wrote a book about his impressions of traveling in America. At the time, and I read it in the States, I liked it. I did not want to blog about my impressions in Canada. But I was happy to capture some memories and tell Canadians about Ukraine.
***
By the way, the story about Canada should begin with the background of how I ended up here in Canada. It is a mystical story of family ties. My great-grandfathers went to Canada almost a century ago, we had a very distant contact, someone even would come to Ukraine (it made me happy as a child – they would always bring gifts). It was a very long time ago. Then there was no contact for about ten years.
One day, Rich Baydack, a Canadian who only knew where his distant relatives were from, came to my father's birthplace. Rich, when we met in Canada, told me that he had even visited the Ukrainian Crimea.
For 10 years we were in online correspondence with Len, his father, who was the biggest enthusiast in the search for family ties. We corresponded with Len regularly, exchanged photos, our life lines were in parallel worlds, but we were united by a family thread (it is now, only 4 days apart, we can not imagine our lives without Len), however, mutual polite invitations to visit each other did not end.
The war changed everything. Now we are in Canada, finally meeting after 10 years of correspondence. Len is kindly hosting us in his home, his daughter Natalie found a publishing house that published me in Canada, so now I am on tour with the book. We met all the Canadian relatives and are enjoying our time together.
***
It is amazing how despite several generations, despite living on different continents, the influence of different cultures, the power of genes is clearly manifested. Len and I are very similar. Watching him, I see just a set of the same traits and character: organization and order, responsibility and care. We both have worked in sales and love literature. Our outlook on life is also very similar, which made being with him very easy and enjoyable.
***
Cities:
Besides the mentioned Winnipeg and time with family, we visited several other cities. Toronto is a multicultural city. It is said to be the only city in the world where the number of expats is greater than the number of locals, as a result – a variety of languages and cultures.
In Toronto we were hosted by Polish Canadian Rem. He is a librarian at the university, a father of four sons, a talented poet and a man with an incredible story. I don't know what I can write about him (some information may have been told to me in secret). But he was born in Poland, lived in Italy and found a home in Toronto. We found almost parental care in his home. It was very appropriate under the circumstances. We had delicious dinners and deep conversations. The latter were also lacking so they gave a feeling of returning to life.
We continued to drive around Canada. It was quite cozy in Calgary. Cowboy city of Canada. And a typical city of North America, but much calmer, quieter, without the noise and pressure of the metropolis. I liked it.
Montreal deserves special words. The city that I liked the most, because it is the closest to Europe in terms of mood. I want to mention the guys who organized my meeting and hospitably received us. Oleksii and Arsenii. They are guys from Ternopil region who live in Canada most of their lives. It is very interesting to communicate with mature young people (21 and 19 years old), to observe how the new culture influenced their consciousness and views on the world, how wide their horizons are. I find these products of mixing cultures to be a pleasant phenomenon for me.
Edmonton. Another important city where our family also lives. Micky, Lucas, Gerry. Thank you for the warm welcome. Myron, the best presentation in Canada was in Edmonton.
I will remember Edmonton for the fact that many things happened here for the first time.
Here we celebrated Thanksgiving and Halloween for the first time. Thanksgiving was Ukrainian, and Micki is a great cook. By the way I have to say that Jerry has a good taste in art. Halloween was really impressive. We will probably introduce this celebration at home.
But the number one event is hockey. We went to an Oilers game and we've never seen anything like it. The game can last up to three hours, which you don't notice, it's so intense. Each break is filled with music, contests, events. I even won an Oilers jersey. So from now on, I'm a fan of both: Winnipeg Jets and Edmonton Oilers.
The only Canadian discomfort is waking up at 6 am. One of the reasons is the time difference. When morning comes in Canada, it is almost evening in Ukraine and a lot has happened. I want to keep track of everything, so every morning I have to catch up.
From other Top events:
My book was listed first in disability fiction at Amazon. I met an icon of Canadian literature – Margaret Atwood, also attended the readings of the Giler Prize nominees.
We visited Niagara Falls, got wet, but the memories will last for a long time.
We tasted poutine. It was not tasty, no wonder that something that is called putin is not tasty.
But in Canada there are delicious breakfast cafes. When you are in Winnipeg, go to «Stellas"
***
There are many other stories, but I want to keep them for myself. Let this be a short report about Canada, consisting of different episodes noted in different times/places, which I am editing on a train in Poland, where I came back from Canada with the first cold and winter. 
Many thanks to Guernica for making this happen. Anna, thanks for your belief and devotion.
I will also share the media list, there are articles and interviews. Maybe they will tell something more.
The largest North American literary portal about «Invisible"
https://publishingperspectives.com/2022/07/rights-edition-canadas-guernica-editions-acquires-ivan-baidaks-invisible/
Interview for EdmontonJournal about the war in Ukraine
https://edmontonjournal.com/entertainment/local-arts/youre-still-in-this-war-ukrainian-author-ivan-baidak-on-his-journey-to-canada-and-his-new-novel-about-acceptance
"I choose my country before my personal needs
https://open-book.ca/News/I-Choose-My-Country-Over-My-Personal-Needs-Feature-Interview-with-Acclaimed-Ukrainian-Novelist-Ivan-Baidak
What is it like to live with Tourette syndrome?
https://alllitup.ca/Blog/Under-the-Cover/2022/Under-the-Cover-Five-Stories-of-My-Tics?fbclid=IwAR0gu-JIrl0oyG7bbJP31uMWf70yZqBm8rDQQisMp4lg4mVUBGr6Pxaz0H0
How the "invisible" become visible. Thank you for my biggest supporter Diane Bracuk
https://esotericamag.com/ivan-baidak-moving-from-self-inflicted-invisibility-to-visibility/
JunctionReads video interview about "Invisible" in English
Toronto radio broadcast CIUT 89.5
https://m.youtube.com/watch?v=06IClVlzie0